Measuring 37 mm (1.46″) in diameter, these brushed DC gearmotors are the largest and most powerful we carry. They are available in a range of gear ratios from 6.3:1 to 150:1 and with 12 V or 24 V motors, and all versions are available with integrated 64 CPR quadrature encoders on the motor shafts. The 12 V and 24 V motors offer approximately the same performance at their respective nominal voltages, with the 24 V motor drawing half the current of the 12 V motor. See the 37D metal gearmotor datasheet (2MB pdf) for more information, including detailed performance graphs for each gearmotor version. You can also use our dynamically sortable 37D gearmotor comparison table to search for the version that offers the best combination of speed, torque, and current draw for your particular application.
In general, these kinds of motors can run at voltages above and below the nominal voltages; lower voltages might not be practical, and higher voltages could start negatively affecting the life of the motor.
The gearboxes are composed mainly of spur gears, but they feature helical gears for the first stage for reduced noise and improved efficiency:
On units with encoders, the encoder portion is protected by a black plastic end cap:The end cap is easily removable if you need to access the encoder or want to slightly reduce the overall gearmotor size, but there is a little bit of base plastic that will remain, as shown in the pictures below:
Details for item #4693
This gearmotor is a powerful 24V brushed DC motor with a 50:1 metal gearbox and an integrated quadrature encoder that provides a resolution of 64 counts per revolution of the motor shaft, which corresponds to 3200 counts per revolution of the gearbox's output shaft. The gearbox is composed mainly of spur gears, but it features helical gears for the first stage for reduced noise and improved efficiency. These units have a 16 mm-long, 6 mm-diameter D-shaped output shaft. This gearmotor is also available without an encoder.
Key specifications:
| voltage | no-load performance | stall extrapolation |
| --- | --- | --- |
| 24 V | 200 RPM, 100 mA | 23 kg⋅cm (320 oz⋅in), 3 A |
Exact gear ratio: 25×30×25×4010×10×15×10=50:125×30×25×4010×10×15×10=50:1
Dimensions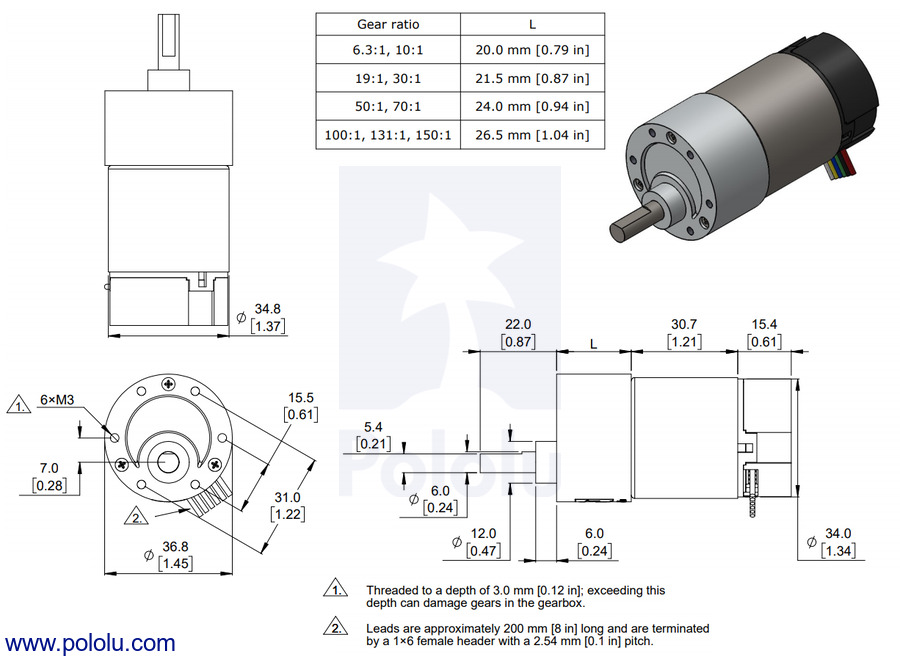 Dimensions of the 37D metal gearmotors with 64 CPR encoders. Units are mm over [inches].
This diagram is also available as a downloadable PDF (459k pdf).
Warning: Do not screw too far into the mounting holes as the screws can hit the gears. We recommend screwing no more than 3mm (0.12″) into the screw hole.
Write a review
Your Review:
Note:
HTML is not translated!

Enter the code in the box below: