INTRODUCTION
Conductivity is the reciprocal of an object's resistivity. It represents a material's ability to pass a current. In a liquid, conductivity is a measure of a solution's ability to conduct electricity and can reflect the amount of dissolved or salinity of a water source, so it's an important parameter in water quality monitoring.
DFRobot Gravity: Analog Electrical Conductivity Sensor PRO(K=1) is specially used to measure the conductivity in aqueous solutions, and then to evaluate the water quality. These conductivity sensors are often used in hydroponics, aquaculture, environmental water detection, and other fields.
As an upgraded version of the analog electrical conductivity meter, this pro version has greatly improved probe endurance, which can be used in 24/7 conductivity monitoring. Besides, the integrated PT1000 platinum resistance thermometer makes it easier to measure the compensated temperature data.
It supports 3-5V wide voltage input and is compatible with 5V and 3.3V main control boards. The output signal is filtered by hardware and has low jitter. The excitation source adopts an AC signal, which effectively reduces the polarization effect, improves the precision, and prolongs the life of the probe. The supported library comes with a calibration program to allow you to get started easily. Besides, there are practical items in the package, like calibration solution, accessory kit, waterproof connector, etc., which can help you quickly build a conductivity monitoring platform.
With this product, a controller board (such as Arduino), and the software library, you can quickly build an electrical conductivity meter, plug-and-play, no solder required. DFRobot provides a variety of water quality sensor products with uniform sizes and interfaces, which not only meet the needs of various water quality testing but are also suitable for the DIY of multi-parameter water quality testers.
This is an industrial-grade probe and can be immersed in liquid for a long time. If you want a conductivity probe with higher accuracy or larger range, please select the laboratory probe (Gravity: Analog Electrical Conductivity Sensor /Meter V2 (K=1)).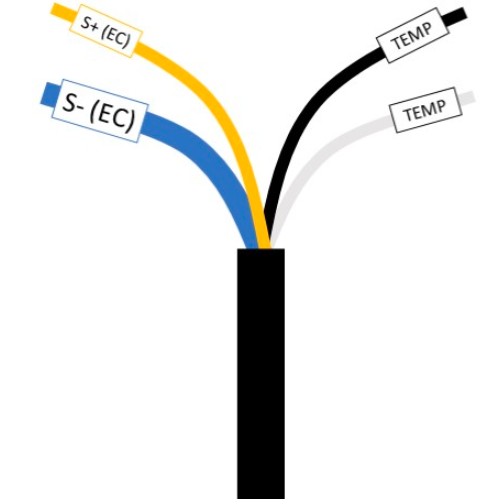 Electrical Conductivity Probe Pro Pinout
FEATURES
Easier to measure the compensated temperature data
Plug-and-play, no solder required
APPLICATIONS
Hydroponics
Aquaculture
Environmental water detection
SPECIFICATION
Supply Voltage: 3.3-5.0V
Output Signal: 0-3V
Probe Type: Industrial Grade
Cell Constant: K=1
Temperature Detector: PT1000 platinum resistance thermometer
Maximum Range: 1-2200μs/cm
Practical Range: 100-2000μs/cm
Operating Temperature: 0-50℃ (non-freezing)
Pressure Resistant: 0.5MPa
Waterproof Level: IP68
Cable Length: 5m
DOCUMENTS
SHIPPING LIST
Electrical Conductivity Probe x1
Electrical Conductivity Signal Conversion Board (Industrial Grade) x1
PT1000 RTD Signal Conversion Board x1
Gravity Sensor Cable x2
Waterproof Joint x1
Waterproof Aviation Connector x1
Electrical Conductivity Calibration Standard Solution 1413µs/cm x4
Nylon Pillar Screws Kit x1
Write a review
Your Review:
Note:
HTML is not translated!

Enter the code in the box below: