An industrial-grade RS485 shield for LattePanda! It is designed to expand a reliable RS485 interface(OPEN4) for LattePanda V1. The receiving and sending of the module are isolated and it features signal isolation, power isolation, lightning surge protection, transient voltage resistance, and bus-protection, which assures reliable data transmission and effectively protects your LattePanda main-board. Apart from that, the module offers 12V power output and comes with on-board 120Ω terminal matching resistor that can be controlled by the switch.
The product employs a stackable connection, which makes it able to be easily fixed onto LattePanda main-board by copper columns without blocking the heat dissipation area of the main-board. This RS232 Connector Expansion Shield can be safely applied in industrial scenarios.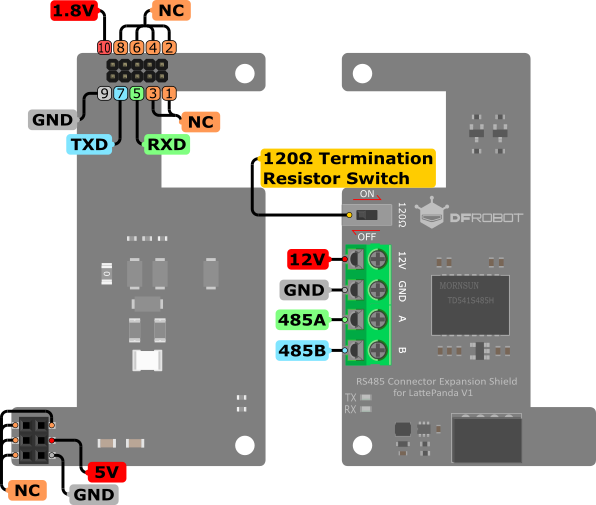 Board Overview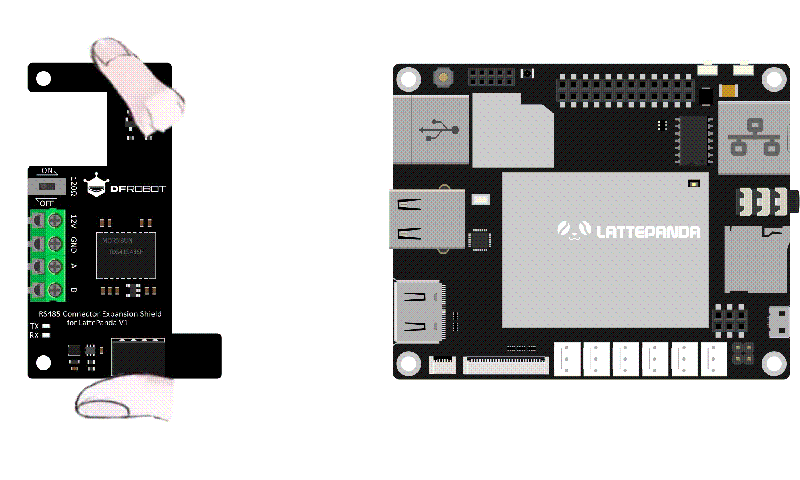 Connect the Shield and LattePanda V1
FEATURES
Signal Isolation and Power Isolation
Reliable Communication
12V Power Output
On-board 120Ω Terminal Matching Resistance
Easy to Connect and Use
12mm Mounting Copper Columns
APPLICATIONS
SPECIFICATION
Operating Voltage: 5V
TTL Level: 1.8V
Output Voltage: 12V
Operating Temperature: -40℃ to +85℃
Baud Rate: 115200 bps (LattePanda V1 TTL can only adjust to 115200 bps)
Isolation Voltage: 2500VDC
Not Support Hot Plugging
DOCUMENTS
SHIPPING LIST
RS485 Connector Expansion Shield for LattePanda V1 x1
M3 Double-way Hexagonal Copper Column(12mm) x3
M3 Round Head Screw x6
Write a review
Your Review:
Note:
HTML is not translated!

Enter the code in the box below: