This gearmotor is a powerful brushed DC motor with 150:1 metal gearbox intended for operation at 24 V. The gearbox is composed mainly of spur gears, but it features helical gears for the first stage for reduced noise and improved efficiency. These units have a 16 mm-long, 6 mm-diameter D-shaped output shaft. This gearmotor is also available with an integrated encoder.
Key specifications:
| voltage | no-load performance | stall extrapolation |
| --- | --- | --- |
| 24 V | 68 RPM, 100 mA | 56 kg⋅cm (780 oz⋅in), 3 A |
Exact gear ratio: 25×30×30×25×4010×10×10×15×10=150:125×30×30×25×4010×10×10×15×10=150:1
Dimensions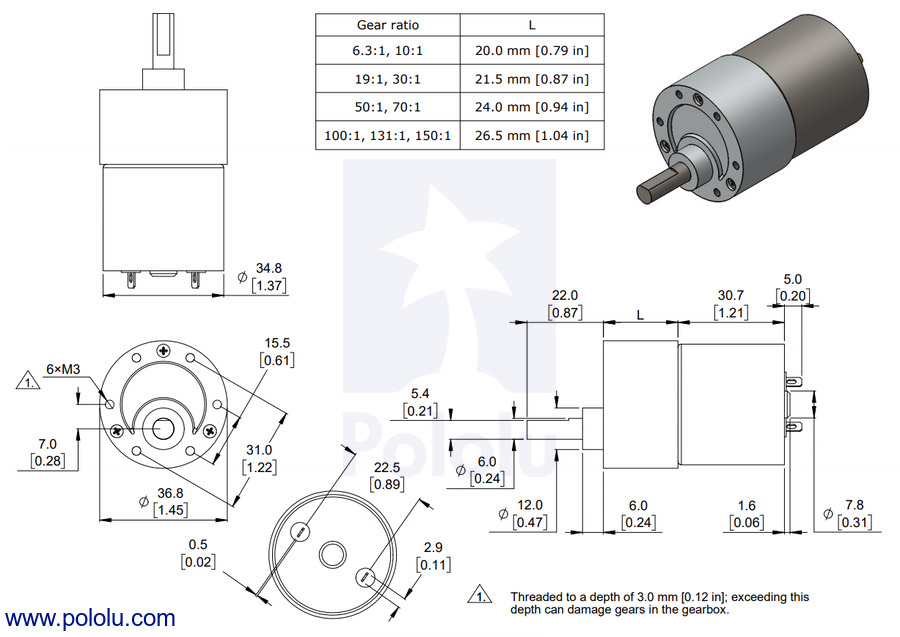 Dimensions of the 37D metal gearmotors (without encoders). Units are mm over [inches].
This diagram is also available as a downloadable PDF (459k pdf).
Warning: Do not screw too far into the mounting holes as the screws can hit the gears. We recommend screwing no more than 3mm (0.12″) into the screw hole.
Gearmotor accessories
The face plate has six mounting holes evenly spaced around the outer edge threaded for M3 screws. These mounting holes form a regular hexagon and the centers of neighboring holes are 15.5 mm apart. We carry two brackets for these gearmotors: a stamped aluminum L-bracket (sold in pairs) and a sturdier, tombstone-style machined aluminum bracket (sold individually):
| | |
| --- | --- |
| 37D mm gearmotor (without encoder) with L-bracket and 6mm universal mounting hub. | Pololu machined aluminum bracket for 37D mm metal gearmotors mounting a motor to a clear piece of acrylic. |
The 6 mm diameter gearbox output shaft works with the Pololu universal aluminum mounting hub for 6mm shafts, which can be used to mount our larger Pololu wheels (80mm- and 90mm-diameter) or custom wheels and mechanisms to the gearmotor's output shaft as shown in the left picture below. Alternatively, you could use our 6mm scooter wheel adapter to mount many common scooter, skateboard, and inline skate wheels to the gearmotor's output shaft as shown in the right picture below:
| | |
| --- | --- |
| Black Pololu Wheel 90×10mm on a Pololu 37D mm Metal Gearmotor. | A 37D mm gearmotor connected to a scooter wheel by the 6 mm scooter wheel adapter. |
For a general-purpose hex adapter, consider our 12mm hex wheel adapter (also available in an extended version), which lets you use these motors with many common hobby RC wheels, including Dagu Wild Thumper Wheels:

12mm Hex Wheel Adapter for 6mm Shaft connecting a Wild Thumper Wheel to a 37D mm Metal Gearmotor.
Write a review
Your Review:
Note:
HTML is not translated!

Enter the code in the box below: