These hexagonal male-female aluminum standoffs keep parts spaced 0.375" (10 mm) apart and are great for building a multi-level robot chassis. Both ends of these 3/16"-wide standoffs have 4-40 threads. The standoffs are sold in packs of 4.
These M-F (male-female) aluminum standoffs are great for separating stacked components or chassis tiers. Each hexagonal standoff is 3/16″ wide with male threading extending 3/16″ to 1/4″ from one end (dimension M on the mechanical drawing to the right) and female threading to a depth of 3/16″ to 1/4″ in the other end (dimension F).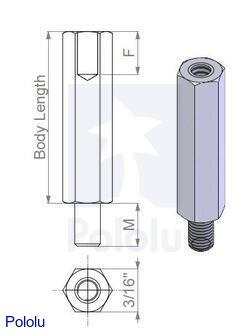 The standoffs can be screwed together to make longer standoffs.
Dimensions
General specifications
| | |
| --- | --- |
| Gender: | Male-Female |
| Thread type: | 4-40 |
Write a review
Your Review:
Note:
HTML is not translated!

Enter the code in the box below: