INTRODUCTION
This M.2 Key-M PCI-E x4 extension cable is specially designed for LattePanda users. It offers PCIe3.0 full-speed stable signal transmission, and the highest speed can reach 32G/bps. The cord supports high-speed network card, capture card, NVMe SSD hard disk card, USB adapter card, PCI-E x4, and other interfaces.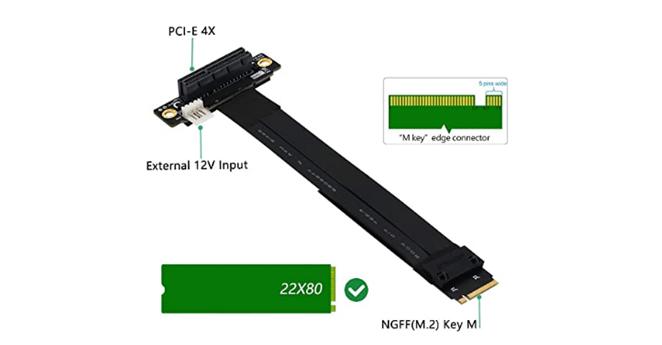 Due to the differential signal without hole design, there is no problem of signal attenuation interference in parasitic capacitance and parasitic inductance, also there will be no more CAF micro short circuit, which assures the durability of the cord. The product uses high-quality material and PCB workmanship precision. Copper thickness is thickened to 1oz. It has sufficient gold content in gold fingers and good conductivity, which greatly prevents the cable from rusting and reduces blue screen problems. The cable is protected by a PCB gasket with a thickness of 3mm at the metal welding point and is fastened with screws and hex nuts. The product is strong and reliable, resistant to pulling, anti-interference, and not easy to be broken. The wire can be bent and folded without affecting the use.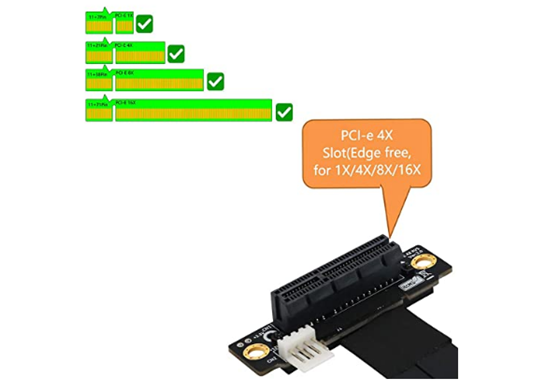 Humanely, the PCB is designed to be dwarf and fat, particularly so that it will not get stuck on the graphics card, which also makes the board easier to install, reducing the risk of being damaged.
Note:
1. The M.2 interface itself has no 12V power supply capability. It must be connected to a 12V power PCIe card to operate normally.
2. Be sure to recognize the direction when plugging in, and don't plug it in reverse or off-position, otherwise, the device may be burned. Please hold the socket of the device first when plugging in case of breaking the socket pin due to excessive force.
3. The conditions of various motherboards and equipment signal drive capabilities are different, so the using effects of the product may not be all the same.
SPECIFICATION
PCI-E adapter board extension cable
Bandwidth Speed: PCIe3.0x4 full speed, up to 32G/bps
Length: 0.1m / 3.94 inch
SHIPPING LIST
Write a review
Your Review:
Note:
HTML is not translated!

Enter the code in the box below: