INTRODUCTION
In life, remote controllers can be seen everywhere, and most of them are inseparable from the battery. However, we often encounter problems when using the battery, for instance, it is troublesome to replace the battery, batteries are easy to corrode in a humid environment, or the waste batteries may cause serious environmental pollution. Do you know that wireless remote control can actually work without batteries!
This self-powered wireless switch from DFRobot can send signals wirelessly without installing a battery. The switch is composed of a micro-generator and a 433Mhz radio frequency circuit. Based on the principle of electromagnetic induction, the micro generator converts the kinetic energy of the press into electrical energy that will be rectified and stored by the RF circuit later, by which a signal can be transmitted wirelessly. It is suitable as a maintenance-free switch for long-term monitoring of changes in the state of pressing, collision, etc., such as making wireless doorbells, pagers, food ordering devices, wall switches, etc.
A receiver is required when using this product. It is recommended to use it with our official Gravity: Digital Wireless Switch Receiver (433MHz), or other receivers that support EV1527 decoding format and 10Kbps decoding rate.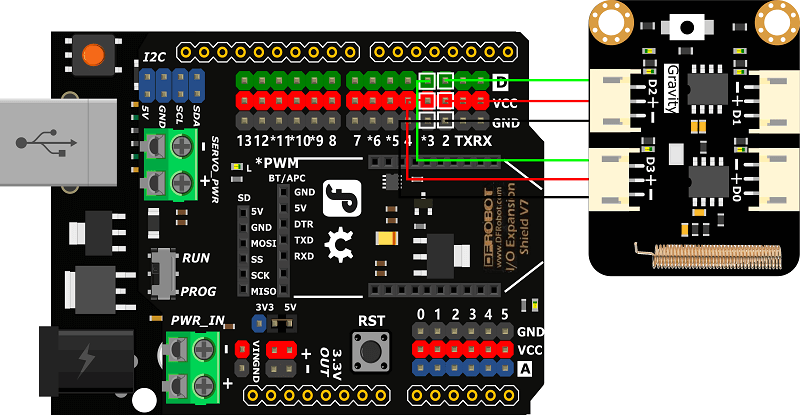 Connection
FEATURES
No battery needed, maintenance-free
Wireless signal, wiring-free
RF signal, strong penetration
Onboard 4-position DIP switch, adjustable 15 states
1 million sets of random address codes
The lifetime of 100,000 presses
APPLICATIONS
Wireless doorbells
Pagers
Food ordering devices
Wall switches
SPECIFICATION
Working Frequency: 433Mhz
Transmission Rate: 10kbps
Encoding Format: EV1527
Output Power: 13dBm
Modulation Method: OOK
Power Generation Energy: 600uJ
Module Size: 47x25x11mm(L*W*H)/1.85x0.98x0.43"
Press Down Force: Typical 1800g
Action Method: Automatically rebound after pressing down
Action Distance: 2.6mm (endpoint)
Press Frequency: no more than 4 times per second, continuously rapid press will cause energy accumulation that cannot be consumed in time, and eventually burn the chip
Stable Transmission Distance: Indoor 40M
Distance Test Condition: Straighten the wire antenna of the transmitting module, and for the receiving module, use [Gravity: Digital wireless switch receiver(433MHz)]
DOCUMENTS
SHIPPING LIST
Self-powered Wireless Switch x1
Write a review
Your Review:
Note:
HTML is not translated!

Enter the code in the box below: